This post was originally published on this site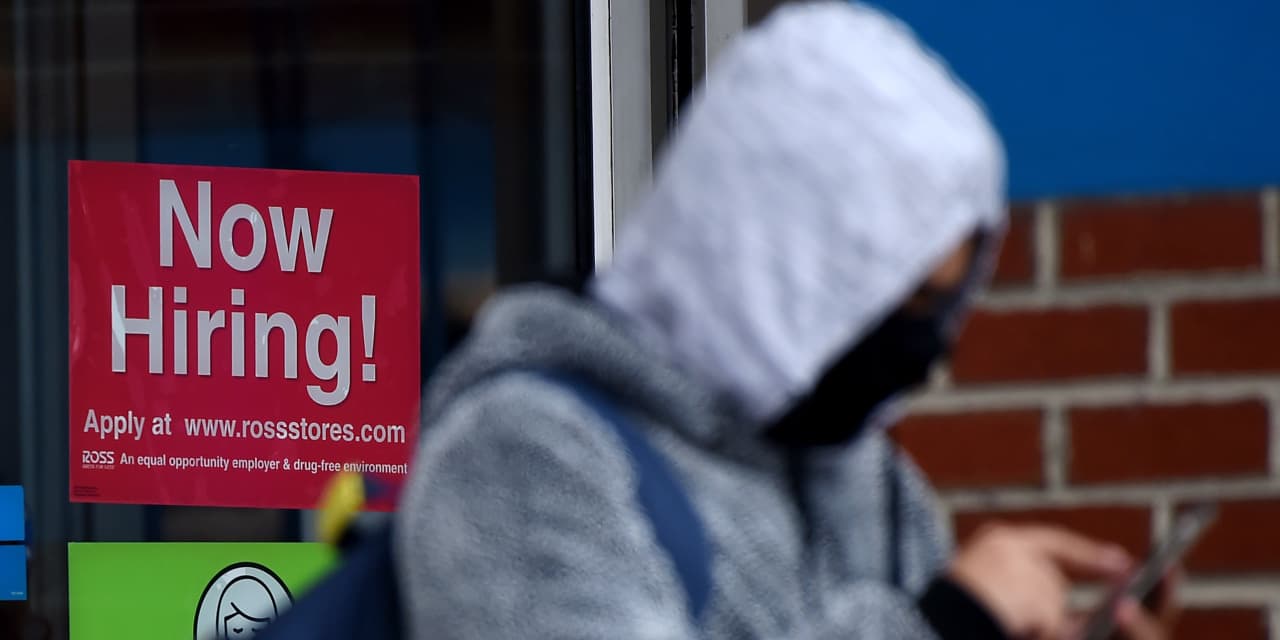 U.S. equity indexes were indicated higher early Friday, with the main benchmarks set to extend a rally to fresh records to start the year, even as a jobs report for December showed the first monthly job losses since April amid an acceleration of cases of COVID-19.
How are stock benchmarks performing?
Futures for the Dow Jones Industrial Average YMH21, +0.15% YM00, +0.15% YM00, +0.15% were trading 98 points, or 0.3%, higher at 31,040.
S&P 500 index futures ESH21, +0.26% ES00, +0.26% ES00, +0.26% were up 13.40 points at 3,808.75, a gain of 0.4%.
Nasdaq-100 futures NQH21, +0.53% NQ00, +0.53% were rising 76.75, or 0.6%, to 13,005.75.
On Thursday, the market booked a quartet of record closing highs after Congress confirmed President-elect Joe Biden's election win:
What's driving the market?
Stock futures lost some momentum but held fairly steady on Friday after the closely followed report on jobs showed that the U.S. economy lost 140,000 jobs in December, well below forecast of a gain of 55,000.
The U.S. unemployment rate remained unchanged at 6.7%, but data from the Labor Department report also suggests that a number of Americans left the workforce.
The decline in employment was the first since last April, when the U.S. lost a 20.8 million jobs in that one month alone
"With large swaths of the U.S. economy shut down throughout December to combat the spread of Covid-19, it's no surprise that the economy lost jobs in December," wrote James McDonald, CEO and chief investment officer of Hercules Investments.
The government report comes after a private-sector employment reading out on Wednesday from ADP showed 123,000 private-sector jobs in December, as consumer and business activity in some states was affected by lockdowns to limit the spread of COVID-19 which has worsened across much of the country. The government report showed that 95,000 private-sector jobs were lost in December.
Indeed, the U.S. registered record deaths on Thursday, with at least 4,111 lives on Thursday lost from COVID, representing the most in a single day since the start of the outbreak, according to a New York Times tracker, which also came amid a record 280,028 new cases of the disease.
"As we had highlighted in prior publications, measures put in place to stop the spread of COVID-19 had a big impact this month, specifically in the leisure and hospitality sector where payrolls fell 498K," wrote Jefferies analysts Thomas Simons and Aneta Markowska, in a note after the data was published.
The analysts estimate that if it weren't for renewed lockdowns payrolls would have showed a gain of 358,000.
The modest moves in Wall Street stock index futures on Friday also come after a dramatic political week that included wins by Democrats against incumbent Republicans in the U.S. Senate that shift the balance of power in Congress, along with rioters storming the Capitol building after being encouraged by President Donald Trump to try to block Congress from certifying President-elect Joe Biden's November win.
The chaos in the Capitol has led to resignations by some members of Trump's administration, including Education Secretary Betsy DeVos, Transportation Secretary Elaine Chao, and the first lady's chief of staff as well as a top official who dealt with China.
President Donald Trump, in a video released on Thursday night, finally acknowledged his election defeat and vowed a smooth transition of power.
House Speaker Nancy Pelosi and Sen. Chuck Schumer have called for Trump's immediate removal from office, even with just a few days left before Biden is sworn in as president on Jan. 20.
Markets, however, have focused on the political wins by Democrats Jon Ossoff and Raphael Warnock in the Senate runoff elections on Tuesday, which raises the prospect of additional coronavirus fiscal relief measures and other legislation that could boost the U.S. economy after Biden becomes president in 12 days.