This post was originally published on this site

It was an impressive 2020 for PayPal (NASDAQ:PYPL). And while some may warn shares are expensive, friendly looking trends off and on the price chart and historical precedent dictate otherwise and make the case for a purchase of PayPal stock today. Let me explain.

Who could have foreseen this past year's stock market gains during the darkest days of the novel coronavirus pandemic? Maybe Nostradamus? The S&P 500 index finished 2020 up more than 16%. And the Nasdaq Composite index cruised higher by nearly 44%. More importantly, the performances weren't without strong cause. Nor were they alone, including PYPL's market-leading gain of 117%.

Tech products and services from the likes of Amazon (NASDAQ:AMZN), Zoom Video (NASDAQ:ZM), Peloton (NASDAQ:PTON) and Teladoc Health (NYSE:TDOC) have been critical for navigating Covid-19. And Wall Street responded by sending shares of those companies to market beating all-time-highs in 2020.

From delivery or connecting with others and staying on top of our health, our lives are a great deal easier than otherwise. And behind the scenes financial payments disruptor PayPal proved its positioning in this list of essential services and goods.

But unlike some outfits benefitting from the pandemic, Covid-19 merely stoked an existing trend toward a digital-first economy, while reinforcing PYPL's longer-term growth opportunities. Bottom line, PayPal also isn't at risk of collecting dust like an exercise bike once a socially-distanced normal becomes less critical in our daily lives.

As InvestorPlace contributor Faizan Farooque pointed out earlier this week, PayPal's impressive growth is buoyed by more than 350 million people relying on the company's financial services. Bank of America (NYSE:BAC) and JP Morgan Chase (NYSE:JPM) can only imagine with envy what that looks like. And PayPal has an ace or two in the hole as well. As an early adaptor of Bitcoin and Ethereum, PYPL's ability to profit from the cryptocurrency market as it gains increased legitimacy stands to be a massive and under-appreciated longer-term opportunity.
PayPal Stock Monthly Price Chart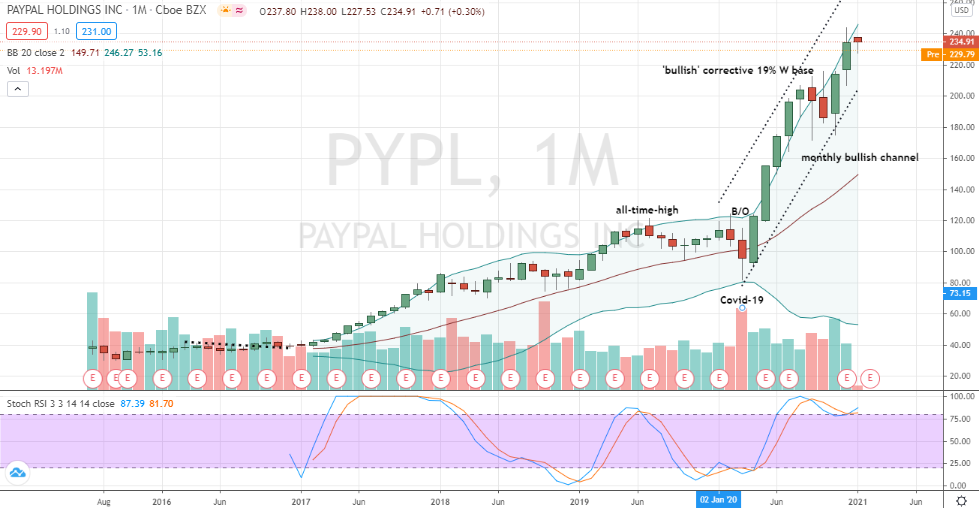 Click to Enlarge
Source: Charts by TradingView
PayPal stock's bullish price trend reflects growth successfully captured this past year, as well as a future poised to deliver strongly for investors. In fairness, the monthly channel is a tad steeper than I'm typically comfortable embracing. But the price conviction also goes hand-in-hand with PYPL's aggressive multiples that mistakenly warn value-oriented investors to stay away.
Importantly, and for a large-capitalization stock of PayPal's caliber, the ability for shares to grow into its pricey-looking environment is a common phenomenon. And today, with PYPL shares sporting a recent corrective breakout within the channel and supportively determined stochastics crossover setup, I wouldn't bet against this trend in motion.
For investors wanting to add a core growth holding to their portfolios, PYPL has a lot working in its favor. That's not to say there won't be bumps in the road. But more often than not, those hazards will turn into longer-term opportunities for investors prepared to take advantage of them. One way to do that while riding the existing trend is a options-based stock-collar strategy.
Featuring defined and reduced risk, as well as the ability to adjust and accumulate on weakness in riskier-looking environments with unmatched price authority, this type of spread is without equal for getting the job done. In reviewing PayPal's options board, one which might appear superficially expensive to others but is well-positioned for today's circumstances off and on the price chart is the PYLPL February $220/$260 collar.
On the date of publication, Chris Tyler holds, directly or indirectly, positions in Grayscale Bitcoin Trust (GBTC) and Grayscale Ethereum Classic (ETCG), but no other securities mentioned in this article.
Chris Tyler is a former floor-based, derivatives market maker on the American and Pacific exchanges. The information offered is based on his professional experience but strictly intended for educational purposes only. Any use of this information is 100% the responsibility of the individual. For additional market insights and related musings, follow Chris on Twitter @Options_CAT and StockTwits.