This post was originally published on this site

However, the broader picture for the UK economy is still grim. Goldman Sachs said given the return to nationwide lockdown, it expects a 1.5% contraction in GDP between January and March, putting the UK economy into a double-dip recession.
Our estimates suggest that the hit from the latest restrictions will be notably smaller than in April (as factories remain open and activity has become less sensitive to restrictions) but somewhat larger than in November (as schools are closed).

The uncertainty around near-term activity is large, with risks skewed towards a larger Q1 contraction in light of the unpredictability of the new virus strain. But we maintain our view that UK activity will pick up strongly from the spring, as services activity is very depressed relative to pre-covid levels, the UK remains well-placed to benefit from the vaccine (despite a slow start to the roll-out) and fiscal policy stays supportive in 2021.
Goldman Sachs is forecasting growth of 5.6% for 2021 (vs 7% before) and 6.4% for 2022 (vs 6.2%).
Tim Moore, economics director at IHS Markit, says:
A sustained improvement in construction order books resulted in a rise in employment numbers for the first time in nearly two years and the most optimistic growth expectations since April 2017.

Construction companies are hopeful that higher demand will broaden out beyond residential projects in the next 12 months, led by infrastructure spending and a potential rebound in new commercial work from the depressed levels seen during the pandemic.

Transport delays and a lack of stock among suppliers were the main difficulties reported by UK construction firms at the end of 2020, which contributed to the fastest rise in purchasing prices for nearly two years.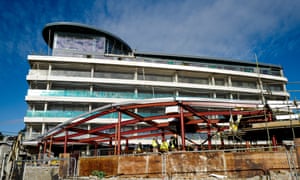 UK construction companies reported a further expansion in business activity in December, boosted by a sharp rise in housebuilding, according to the latest survey from IHS Markit/CIPS. They fared better than their counterparts in the eurozone, where construction activity declined for the tenth month running.
The UK headline construction activity index was 54.6 in December, little changed from November's 54.7 and comfortably above the 50 mark that separates expansion from contraction.
Housebuilding was particularly strong, with a reading of 61.9 while commercial construction also expanded, but the rate of growth eased to its lowest since the recovery began in June, with the index at 51.2. Civil engineering declined for the fourth time in the past five months.
As Covid-19 infections continue to rise, London's population is set to decline for the first time in more than 30 years. This is driven by the economic fallout from the coronavirus pandemic and people reassessing where they live during the crisis, according to a report from the accountancy firm PwC.
It said the number of people living in the capital could fall by more than 300,000 this year, from a record level of about 9 million in 2020, to as low as 8.7 million. This would end decades of growth with the first annual drop since 1988, writes our economics correspondent Richard Partington.
Thousands of British Gas engineers and call centre workers will down tools today as part of a national five-day strike in response to the energy giant's "fire and rehire" plans.
And here is our full story on Sainsbury's and the discount chain B&M, which both reported strong results this morning.
The FTSE 100 index in London has dipped into negative territory, down 0.14% at 6,832, while Germany's Dax is still 0.33% ahead and France's CAC has held on to 0.42% gain. Italy's FTSE MiB is flat.
In Washington, Congress has certified Joe Biden as the next president of the United States – a process that was disrupted last night when hundreds of Trump supporters stormed the Capitol.
Construction activity in the eurozone declined for a tenth month in December, according to the latest survey from IHS Markit. Its main index slipped to 45.5 from 46.6 in November, below the 50 mark that divides expansion from contraction.
The sharpest decline was in commercial construction, particularly in France. Sentiment among construction companies in the eurozone remained negative. Both French and German firms are expecting activity to fall over the next 12 months, while those in Italy were more optimistic.
Usamah Bhatti, economist at IHS Markit, said:
With appetite for new construction projects remaining subdued, firms across the bloc reduced workforce numbers at a slightly quicker pace in the latest survey period. Concerns surrounding the longer term impact that the pandemic will have on the wider construction sector, alongside a lack of new projects in both the public and private sector being bought to tender resulted in an extension to the pessimistic outlook held by eurozone-based builders for a fifth month in a row.

By country, France and Germany continued to report further declines in construction activity, with the former signalling the steepest fall since May. Italian firms on the other hand registered marginal growth for the first time since September.
And Mark Haefele, chief investment officer at UBS Global Wealth Management, adds:
Double Democratic victories in the Georgia US Senate elections rippled through global assets, with stimulus hopes outweighing political violence in the US capital. The impact of the Senate outcome on policy implementation is significant, with increased potential for both modest tax hikes and higher spending for a green recovery.
European stock markets are holding on to their gains, for now at least.
UK's FTSE 100 up 0.62%
Germany's Dax up 0.21%
France's CAC up 0.18%
Italy's FTSE MiB up 0.2%
The Dax is getting closer to reaching 14,000 for the first time in its history.
Connor Campbell, financial analyst at the trading platform Spreadex, says:
The assault on Capitol Hill failed to shake the market's resolve to start 2021 with their best foot forward. However, Europe did struggle to match its recent growth after the bell.

Though Biden's electoral victory is still yet to be officiated due to Wednesday's attempted fascist insurrection, investors have had confirmed a pair of Democrat victories in Georgia's run-off races, with Raphael Warnock and Jon Ossoff becoming the first Black and first Jewish senators in the state's history.

Now that the incoming administration has control of the upper and lower chambers of Congress, it is on the Biden government to show they can get things done – and from a market perspective that means a chunky stimulus package to compensate for the compromised bill agreed before Christmas.

Hopes that Biden and co. will deliver drove the markets higher on Wednesday, and just about allowed Europe to keep its green sheen at the start of Thursday's trading.
On the main London stock market, Sainsbury's is the biggest riser, with its shares up nearly 5%.
Like other supermarkets, Sainsbury's has done well through the Covid-19 pandemic, as locked-down shoppers have splurged on food and drink to consume at home.
As sales of champagne, steaks and luxury food surged over the Christmas period, Sainsbury's recorded a stronger-than-expected rise of 9.3% in like-for-like sales.
The discount retailer B&M, which sells items ranging from frozen foods to plants and homewares, has been another of the most prominent winners during the pandemic. It doesn't sell products online and has thus not benefited from the surge in online shopping, but has benefited from the shift in spending away from non-essential shops, which have had to close during lockdowns. B&M reported revenues of £1.4bn during its latest quarter, up 23% on a year earlier.
Meanwhile, the fashion retailer Joules posted a 58% plunge in sales over the Christmas and New Year period and warned of a financial hit of up to £18m if the new Covid-19 restrictions continue through to April.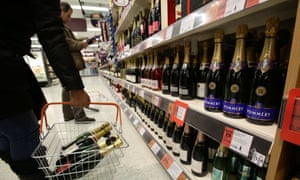 German industry is going from strength to strength. Industrial orders in Europe's largest economy have risen for their seventh month in a row. Carsten Brzeski, global head of macro at ING, says the last time German industry went through such a period of continuous order growth was in 2000.
In November, industrial orders increased by 2.3% from the previous month, from an upwardly revised 3.3.% in October. Brzeski says:
Industrial orders are now some 4% above their pre-crisis level and despite the pandemic, the year 2020 will be the first year since 2017 in which industrial orders recorded a positive year in terms of average monthly growth.

German industry has remained almost unharmed by the November lockdown. In fact, the industrial revival since the summer, though coming from very low levels, is the reason why the German economy may have weathered the fourth quarter much better than most eurozone peers.

German industry seems to be benefiting from the strong economic rebound in Asia but also from an ongoing recovery of domestic demand. Also, some Brexit-related stockpiling effects should not be excluded when interpreting today's order data. Looking ahead, however, with the Chinese New Year break coming up and extended, as well as possibly stricter lockdowns in many main trading partner countries, setbacks for industry seem hard to avoid.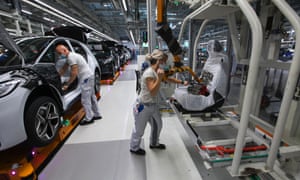 European stock markets have opened higher.
FTSE 100 index up 0.81% at 6,898
Germany's Dax up 0.4%
France's CAC up 0.5%
Spain's Ibex up 0.3%
Oil prices continue their rally, after Saudi Arabia, the world's biggest producer, agreed to cut output over the next two months and US crude stockpiles declined.
Brent crude, the global benchmark, has risen 0.83% to $54.75 a barrel while US crude is 0.89% ahead at $51.08 a barrel. Saudi Arabia said it would voluntarily cut output by 1m barrels per day (bpd) in February and March, following a meeting of the Opec oil cartel with its allies including Russia this week. At the same time, US crude stocks declined by 8m barrels in the week to 1 January.
Edward Moya, senior market analyst at the trading platform Oanda, says:
WTI [West Texas Intermediate] crude seems poised to rise higher the Biden administration will clamp down on US crude production, the Saudis tentatively alleviated oversupply concerns with the 1m bpd cut present, and as the dollar's days seem numbered.
Good morning, and welcome to our rolling coverage of the world economy, the financial markets, the eurozone and business.
Wall Street closed higher last night and European stock markets are expected to rise this morning, as calm was restored to Capitol Hill. The Dow Jones ended the day 1.44% higher while the FTSE 100 index had a stellar run and closed up 3.47%, the highest level since late February.
Other European stock markets also rallied amid optimism over mass vaccination and the prospect of the Democrats taking control of the US Senate. Asian markets were mostly higher, with the Nikkei gaining 1.6% and Australia's stock market up 1.44%.
However, there were shocking scenes in Washington D.C. last night when, following a rally addressed by Donald Trump, hundreds of his supporters marched on the Capitol and stormed the building. The Capitol was put on lockdown, as Trump supporters were seen breaking windows, walking through the building, waving flags and clashing violently with police. Staffers hid in their offices, senators were evacuated and the DC mayor ordered a 12-hour curfew from 6pm. A woman was shot by police and later died of her injuries.
The attack on the Capitol forced the Senate and the House of Representatives to halt their debate over congressional certification of Joe Biden's electoral victory over Trump in November's presidential election, which is usually a ceremonial affair. The process has since resumed.
On the same day, Democrats won two crucial victories over incumbent Republican senators in closely watched runoff elections in Georgia, which means they have taken control of the Senate. Raphael Warnock, the senior pastor of Ebenezer Baptist church in Atlanta, where Martin Luther King once preached, won his race over Kelly Loeffler. In the second race, Jon Ossoff narrowly beat David Perdue, his Republican opponent.
The minutes of the last US Federal Reserve meeting on 16 December were also released last night. They revealed that Fed officials were in no rush to change either the monthly pace or the composition of large-scale asset purchases.
Officials acknowledged that the "recovery thus far had been stronger than anticipated"… "but viewed the more recent indicators as signalling that the pace of recovery had slowed." On the upside, however, "the positive vaccine news received over the inter-meeting period was viewed as favourable for the medium-term economic outlook."
Paul Ashworth, chief US economist at Capital Economics, said:
The high frequency data has deteriorated since that mid-December meeting. But Congress also agreed on a $900bn stimulus, which could be expanded now that the Democrats appear to have narrowly won control of the Senate too. That additional fiscal stimulus will ease the pressure to provide more monetary accommodation.
The agenda
9am GMT: European Central Bank economic bulletin
9:30am GMT: UK Construction PMI
10am GMT: Eurozone inflation for December (forecast: -0.2%)
10am GMT: Eurozone consumer confidence for December
1:30pm GMT: US Trade for November
1:30pm GMT: US Initial jobless claims for week of 2 January (forecast: 800,000)
3pm GMT: US ISM Non-Manufacturing Business Activity index for December (forecast: 55)